The Best Place to Buy Fence in Southwest Florida
Western Fence Supply is Southwest Florida's best source for contractor grade vinyl fence, aluminum fence and chain-link fence materials. We sell to fence companies and homeowners in Lee County, Collier County, Charlotte County and Hendry County. Contact us now to get started on your next fencing project.
Shop our huge selection of fencing styles
Huge inventory with many styles available.
Vinyl Fence
Vinyl (PVC) fences are available as vinyl privacy fence panels, vinyl picket fence panels, vinyl shadowbox fence panels, and much more. Vinyl fencing is the best choice for installation in Southwest Florida as it's both attractive and is virtually maintenance-free.
Aluminum Fence
We sell both mechanically assembled aluminum fencing and welded aluminum fencing. Our standard styles are available heights up to 6' and consist of a spacing picket with rail design. We can also customize the spacing between each picket if you have small children or pets.
Chainlink Fence
The most cost-efficient style of fence for installation on your Southwest Florida property is chainlink fencing. Three colors are available, including standard galvanized, black vinyl-coated, green vinyl-coated and brown vinyl-coated. Should you desire more privacy, a windscreen or privacy slats can also be added.
Metal Fence
This style of metal fencing features a totally private fencing panel comprised of aluminum sheeting and aluminum rails. Metal privacy fences are incredibly popular in Southwest Florida, as they provide privacy at a much lower price than vinyl fence, but they are also more durable than wooden fences.
Heavy Duty Gate Frames
We can custom weld incredibly strong gate frames.

Gates can often be too heavy to attach to the post without support, so it's best to attach your vinyl gate, wood gate, or metal gate to a custom welded steel gate frame.

We weld all of our steel gate frames out of American made steel, so you know they built to last forever.

Our master welders have decades of experience in the fencing industry, and are capable of crafting a gate frame to fit any application.

Contact us today to find out more!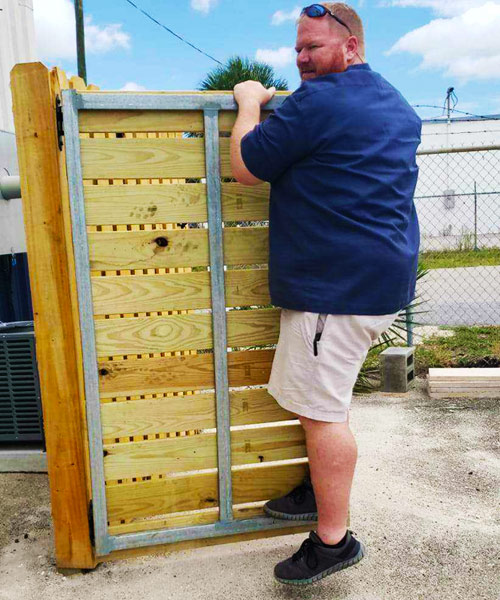 Why Buy From Western Fence Supply?
We're southwestern Florida's premier fence wholesale company.
Western Fence Supply of Southwestern Florida is a family run fencing supply company led by management that has over a decade of fencing installation and fencing fabrication experience. The owners, Juan Morales and Brae Morales previously ran one of the most successful fencing contracting businesses in Broward County, and are now bringing their extensive knowledge of the fencing business to Florida's western coast. They also have numerous years of experience fabricating and welding steel fencing and aluminum fencing and railing systems.
As a fencing fabrication and fencing material supply company, we pride ourselves on selling only premium, contractor-grade vinyl fencing, aluminum fencing, chainlink fencing, and metal fencing products. We refuse to sell low-quality components, just as we refused to install them when we were fencing contractors. When you buy a new fence for your Southwestern Florida property, you can rest assured that you're going to receive the best service, the best product, and the best outcome possible. Contact us today to get started.
read what our customers are saying about us
These are just a few of our reviews, read the one's below and then leave one of your own!
our southwest florida fence supply service areas
Do you live within our service areas? Explore the counties and cities that we service below.
western fence supply is based in fort myers florida
We service all of southwestern Florida from our state of the art fencing fabrication shop.
As a Fort Myers fence company, Western Fence Supply sells to all homeowners, fence contractors, builders, and real-estate agents in Southwestern Florida. For the first time ever, Lee County residents and all residents in surrounding counties. For over a decade, Western Fence Supply employees and management have selling superior quality vinyl fence, aluminum fence, chainlink fence and metal fence panels, accessories and gates to all customers in the Southwestern Florida area.
we're the most trusted fence shop in fort myers
Being based in Fort Myers, Florida allows us to provide our Southwest Florida fencing customers with short lead times, speedy delivery, and exceptional customer service. From our state of the art fabrication shop, we transform raw fencing components into the highest quality fence panels available on the market today. We sell fence in Lee County, fence in Charlotte County, fence in Collier County, and fence in Hendry County. Contact us today for a completely free fencing quote.
unparalelled quality in fencing products
Simply the highest quality fence materials at the best prices.
Here at Western Fence Supply, we have extremely high standards for quality. All of our fencing materials are sourced from top-of-the-line manufacturers including Veka, American's leading vinyl fence extrusion company. Since we have years of experience in the fencing installation business, we understand the value of using high-quality materials. Some of our competitors, like Home Depot, sell the lowest grade of fencing materials, at a ridiculous price. But that's not what we do here. Our vinyl fences, aluminum fences, chainlink fences, and metal fences exceed industry-standard quality specifications. They also meet and exceed Florida building codes.
Next time you, your family or your neighbors need to buy a new fence, come to us first. We guarantee the lowest prices, the shortest lead times and the fastest delivery in the business, all while selling the best fencing materials in Southwest Florida. We're the first of our kind in Fort Myers, a one-stop fence shop for all types of fence sections, fence posts, fence gates, fence caps, fence gate hardware, fence gate frames and much, much more.
read our fencing articles
Educational articles written by the fence experts at Western Fence Supply.