The Best Place to Buy Vinyl Fence in Southwest Florida
High quality vinyl fencing, done right. Only the best PVC fence products available anywhere in the local market.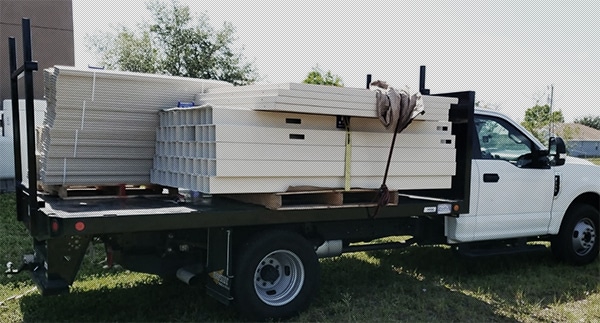 Vinyl fencing components are extruded from a synthetic material called polyvinyl chloride, or PVC. Our vinyl fences are extruded by an American based company called Veka, widely regarded as the highest quality vinyl fencing manufacturer in the world. We take pride in selling an extremely high-quality product that is not readily available on the Southwest coast of Florida, especially to homeowners.
The materials that we use to make our vinyl fence panels are highly customizable. Because of this, vinyl fences have the largest selection of style options available when comparing them to other common fencing products. You'll find our full selection of vinyl fence styles below, including vinyl privacy fences, vinyl picket fences, vinyl semi-privacy fences, vinyl shadowbox fences, and vinyl ranch-rail fences. Research which style you want to install on your property, then click here to get a free quote on vinyl fence in Southwest Florida.
our #1 goal is to provide excellence in vinyl fence fabrication
Uncompromising customer service combined with total expertise in everything we do.
Veka Material
PVC products made by Veka are some of the absolute best in the vinyl fence industry. For years, Veka fencing has represented a significant amount of the top vinyl fence fabrication companies in the United States, and now, we're lucky to consider ourselves one of them.
Lifetime Warranty
Our vinyl fence extrusion supplier, Veka, provides a limited lifetime warranty the guarantees that Veka's vinyl fence components will not chip, peel, blister, rot, or corrode when installed correctly. Most vinyl fence companies don't stand behind their products like Veka does, and that really says something.
Customer Service
We truly care about our customers. As a family-owned & operated Southwest Florida fence company, we go the extra mile to ensure that homeowners and fence contractors in our area are happy and fully satisfied with our service. It's one of the biggest differences between us and our competition.
Vinyl Privacy Fence Panels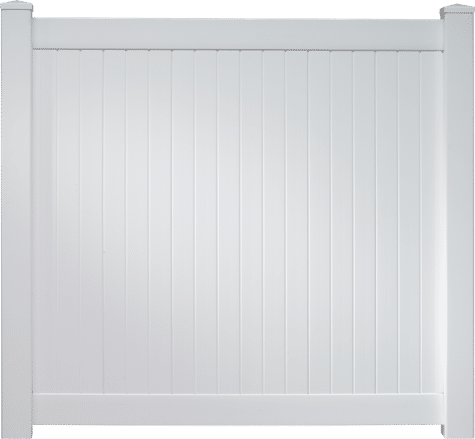 Vinyl privacy fence sections are a perfect product to use if you want to enclose your backyard and create a safe environment for your family to enjoy your pool or other outdoor activities. This style of vinyl fence is comprised of two pocket rails, eleven tongue & groove pickets, and two u-channel. Finished panels are assembled by snapping the rails into routed holes in five-inch square posts, then sliding each picket together and then into the pocket of each rail. Vinyl privacy fence panels are the most common form of PVC fence and are also the most cost-effective. Since this does not fall under the category of specialty products, there is a very short lead time from order start to order completion and eventual delivery. This style is available in heights from 2' to 8', widths from 6' to 8' and in several colors that you can view below.
Vinyl Privacy two tone Fence Panels
This variation on the standard vinyl privacy fence panel features a mixture of two colors. Typically, this style comes with a white frame, and a tan inside. Meaning, the rails and posts are white, and the pickets and u-channel are tan color.
You can choose to mix from any of the three colors available below.
Vinyl Privacy with Lattice Accent Fence Panels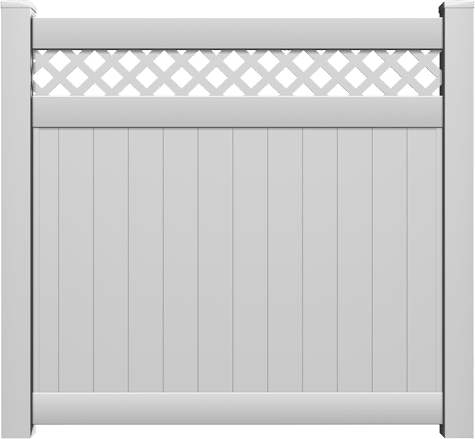 This variation on the traditional vinyl privacy fence style features a 12" window of diamond pattern 3D lattice. Vinyl privacy fencing with lattice is a great alternative to the standard privacy panels if you desire a more decorative style for your vinyl fence, or if you already have lattice accents on other outdoor accents such as pergolas, garden fences or wall accents.
Vinyl Shadowbox Fence Panels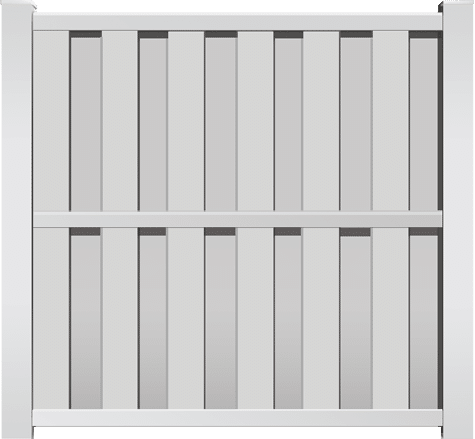 Vinyl shadowbox fences are a modern PVC version of the traditional wooden style of vinyl shadowbox fence. This style features a pattern of overlapping pickets that are slightly offset from the center in order to create the shadowbox pattern. Three rails, top, middle, and bottom are routed with holes for the pickets, so that when everything is connected, each section is incredibly strong. If you have a pool on your property, we can raise the middle rail in order to meet local Southwest Florida fence building codes that dictate vinyl fences must be a minimum of 45" off the ground in order to prevent small children or trespassers from scaling your fence and gaining access to your pool.
Vinyl Semi-Privacy Fence Panels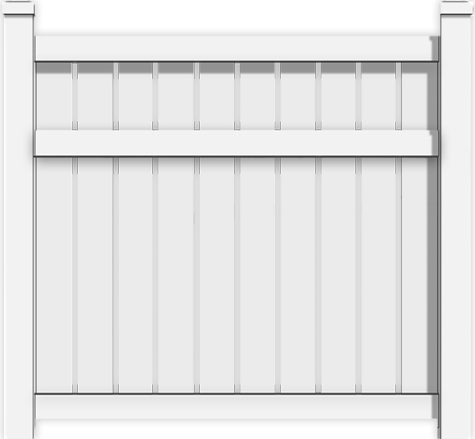 Vinyl semi-private fence sections feature vertical pickets that are spaced a minimum of 9/16" from each other in order to create increased visibility and wind-flow. This is a great option of you have a large backyard and want to be able to allow the wind to penetrate the fencing sections instead of having them prevent the entrance of air. We can customize the spacing of the pickets and the dimensions of the pickets should you have special circumstances or should you desire something a little different.
Vinyl Closed Picket Fence Panels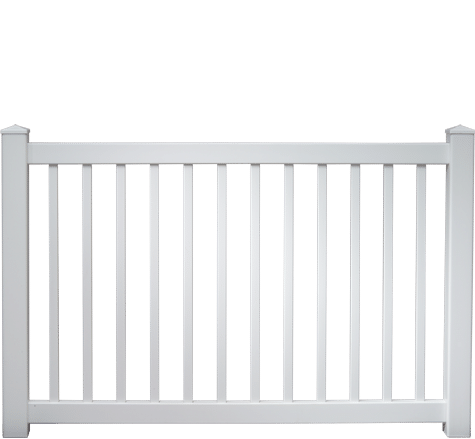 This version of vinyl picket fencing features a closed system wherein pickets do not extend past the top horizontal rail. You can choose between several picket dimensions, including 7/8" x 3", 7/8" x 1.5", 1.5" x 1.5" and more. We can also create a pattern of alternating picket dimensions, should desire to do so. We can also create specialized programs that increase or decrease the standard spacing between each picket in the pattern if you have small children or small pets that you do not want to exit through if left unattended.
Vinyl Open Picket Fence Panels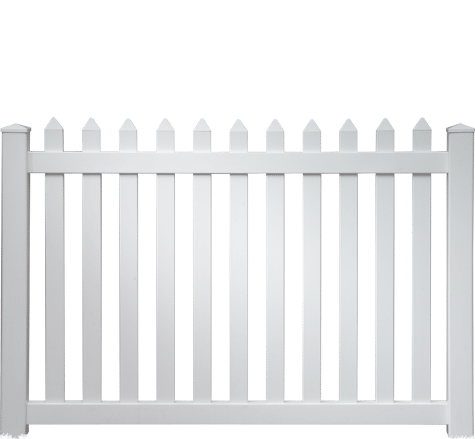 This alternative to closed picket fencing features a lowered top rail that is routed with holes on both sides, allowing the picket to extend past the top rail and be visible. These pickets are then topped with decorative caps that are either sharp or dog-eared. Special order picket caps, including gothic caps, are available upon request. Similar to closed picket fencing, vinyl open picket fencing can be customized with various different picket dimensions and pickets spacing. A unique customization option available only on vinyl open picket fencing sections is an arched top, a scalloped top, or even an alternating picket length top.
Vinyl Ranch Rail Fence Panels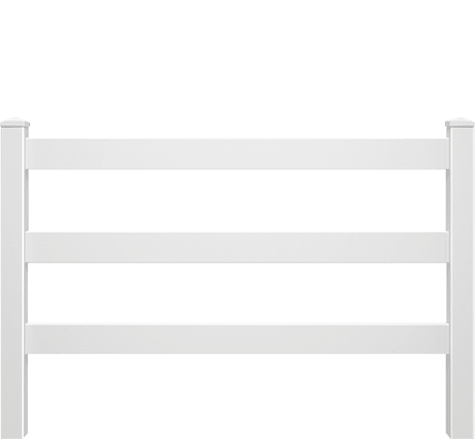 The very first vinyl fences were actually this alternative to wooden ranch rail fencing. Wooden ranch style fences are incredibly costly to maintain over a long period of time and over a large amount of acreage that they tend to be installed upon. Vinyl ranch rail fences can be various heights, and have different amounts of rails, such as 2-rail ranch fencing, 3-rail ranch fencing and 4-rail ranch fencing. You also have the option of choosing a specialized diagonal rail pattern that creates an "X" across the center of thje section, known as vinyl crossbuck fence.
Vinyl Welded Gates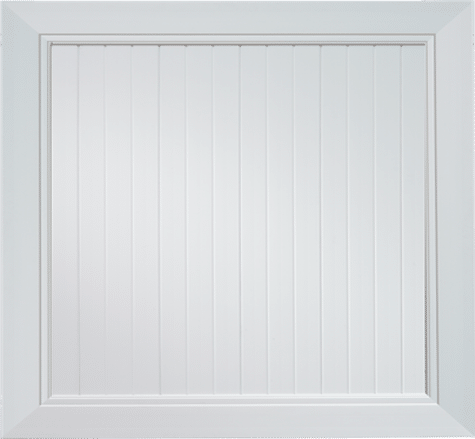 Many vinyl fence companies in Southwest Florida sell what is known as a "gate-kit," which consists of two upright rails, two horizontal rails, and standard pickets. This is a cheap and inferior way to build a PVC gate. Our gates are fully welded on a modified PVC window welding machine, a process which makes an incredibly durable and far better-looking alternative to gate-kits aesthetically. We can make custom gates up to 16' in width and can weld our frames out of any rail and to match any style that we currently sell of PVC fencing. Along with our top of the line vinyl welded gates, we also sell a full selection of vinyl gate hardware including vinyl gate hinges, vinyl gate latches, and vinyl gate drop-rods. Alternatively, you can purchase modern advancements in gate hardware technology with key locking mechanisms and pull to open access.