The Best Place to Buy chainlink Fence in Southwest Florida
High quality chainlink fencing, done right. Contractor grade galvanized and vinyl coated chainlink fabric and gates.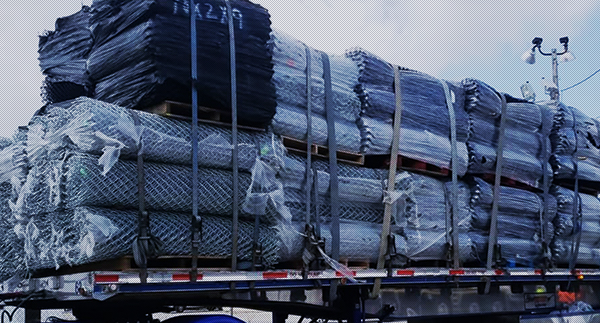 As Southwest Florida's largest supplier of chainlink fencing fabric, posts, gates, and more, we go to great lengths to provide homeowners and fencing contractors with premium grade chainlink fence components. We never cut corners on where we source or materials from, because we refuse to sell anything less than the best. Unlike Home Depot, Lowe's, and other low-end chainlink fence companies, our products are made in America, and will last for years, even in the abrasing Southwest Florida salt air.
We carry a full line of chainlink fabrics including standard galvanized, vinyl-coated black, vinyl-coated brown, vinyl coated black and more. We also welded custom chainlink fence gates, and carry a full line of chainlink fence and gate accessories and hardware. Research which style you want to install on your property, then click here to get a free quote on chainlink fence in Southwest Florida.
our #1 goal is to provide excellence in chainlink fence fabrication
Uncompromising customer service combined with total expertise in everything we do.
Made in the USA
Every chainlink fencing component that we sell has been made in the United States. Many of our competitors in Southwest Florida use inferior parts, but not us. We refuse to cut corners on the quality of our chainlink fencing products.
Warranty
Our chainlink fabric, chainlink posts, chainlink rails, and chainlink gates are covered by the best warranty on the market. We guarantee that they will not rust, corrode or decay due to natural circumstances, if installed correctly and according to our guidelines.
Customer Service
We truly care about our customers. As a family-owned & operated Southwest Florida fence company, we go the extra mile to ensure that homeowners and fence contractors in our area are happy and fully satisfied with our service. It's one of the biggest differences between us and our competition.
chainlink Fence Panels
At Western Fence Supply, are standards for quality are high. We source all chainlink fence components from American companies, so that you don't have to worry about your fabric rusting or ripping over time. Chainlink fences are comprised of a few different parts, including rolls of linked fabric, top-rails, posts, tension bars and other options such as windscreens, vinyl privacy slats and tension wire. You also have the option to add a bottom rail if you are worried about small animals escaping.
Available in galvanized or vinyl coated
Comes in 4' - 10' height
Little to no maintenance
Short lead times, huge inventory of parts
Available Colors