The most affordable fence material & the cheapest type of fence in Southwest Florida
echo get_avatar(get_the_author_meta('email')); ?>
by Brae Morales
September 5, 2022
It can be challenging to find a balance between desire and price, so you might be wondering: What is the cheapest fence to install? In this article, we enlist some of the cheapest fence materials homeowners and builders can purchase. Find out the cheapest fence to install in Southwest Florida now!
Depending on the materials and labor needed, installing a fence can definitely be a significant investment. In general, the least expensive fencing is that which requires the fewest resources to construct, but in some cases, cheaper eventually ends up costing much more. Western Fence Supply wants YOU to have the knowledge you need to buy smart, so rest assured you will find useful facts and data about each fence type below.
Beyond simply establishing property boundaries, fences can be used to make your home more aesthetically pleasing and valuable. If you invest in high-quality materials and give your fence regular maintenance, it should last for many years without requiring the services of a fencing contractor. Factors like fence size, height, and material all affect the final price tag. Fences that are longer and higher than those that are shorter and lower will need more manpower and resources.
Fences can be expensive to build, but with little forethought, investigation, and ingenuity, you can find a solution that fits within your budget while still providing the security and beauty you need. Cheap materials that need little upkeep and are simple to install produce the most cost-effective and reasonably priced fences. Natural, recycled, and man-made materials are the most popular choices for fences because they are inexpensive and need little in the way of installation and upkeep effort.
Confidently decide which fence style is the best option for your Southwest Florida property!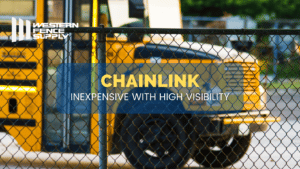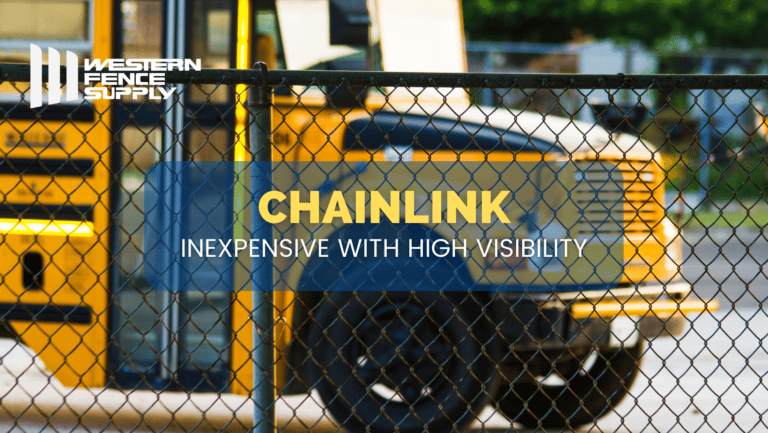 In most cases, chain link fences are the least expensive option. The component materials are reasonably priced, and installation is relatively simple. Chain-link fences made from galvanized steel are impenetrable by pets and rot, and provide a lot of visibility. Dirt and debris don't stick to chain link, and you'll never have to paint or stain it. 
A chain link fence requires little upkeep beyond the occasional sweeping of fallen dirt. For this reason, chain link is often preferred by businesses and homeowners who would rather not have to worry about unnecessary repairs, like the ones needed for low-quality wire fences. Chain link can be your best option if you want a sturdy fence with high visibility but don't want to spend a lot of money.
Interlocking galvanized steel wires are bent vertically, linked in a diamond pattern, and secured to steel poles driven into the ground. Because chain link fencing fully allows airflow between wires, this fence type is ideal against Southwest Florida's strong winds. 
In the United States, chain link fences are the most common and easily recognizable option. Chain link fencing is an inexpensive option for many setups where enclosure is necessary, making it a popular choice for use around parks, athletic fields, factories, and even private residences.
Wood Fences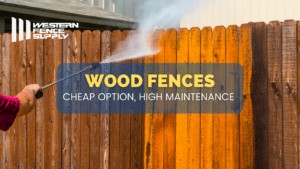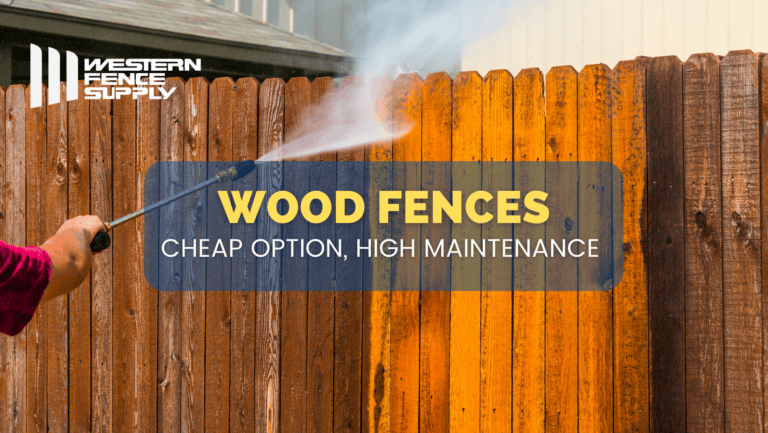 One of the most popular options for fencing, wood fences can be very affordable. By having high-quality materials properly installed, a wood fence can look nice at first. Wood fences are easily customizable since a wide range of colors can be painted or stained on them. To keep the fence looking nice, any color that is applied will need to be frequently repainted. Wooden fences are lauded for their "natural" qualities. However, it is important to be aware of the source and method of wood harvesting. 
Deforestation and its effects are exacerbated by some manufacturers who do not adopt sustainable business practices. Wood fencing can be cheap at first, but if you want to keep that initial look year after year, chances are maintenance will be needed, which can be a significant undertaking for even a moderately sized fence.
Take into consideration that termites and other pests, as well as some types of mold and rot, can cause serious damage to wooden fences. If you own a home or a business with a wooden fence, you should check both sides of the fence on a frequent basis to make sure any minor issues aren't becoming more widespread.
Conventional wooden fences may be less expensive to set up initially, but incur high maintenance costs over time.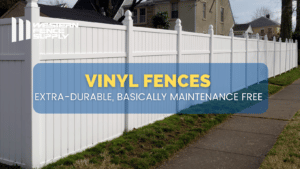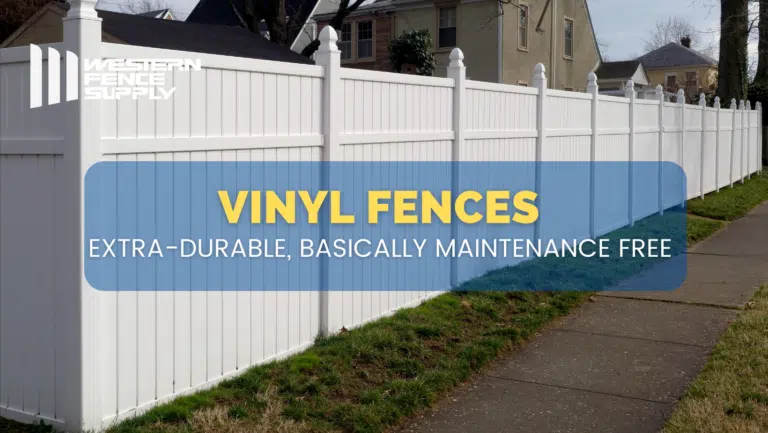 Polyvinyl chloride, or PVC, is a synthetic substance used to extrude vinyl fencing components. Putting up a vinyl fence around your property is without a doubt one of the most cost-effective options. PVC Fence materials can be a little more expensive at first, but their long lifespan and little-to-no maintenance qualities will save you more money than any other fence material. This fence type surpasses traditional wood fencing by being about five times stronger, waterproof and resistant to deterioration from environmental dampness.
PVC has a water absorption rate of only 0.5%, whereas wood is around 8%. You may rest assured that your PVC materials will last for years without rotting. Additionally, PVC is easy to clean and maintain. Even after years of stains, some water and soap will get the job done.
This fencing option is built to withstand years of exposure to snow, rain, and sunlight. High-quality PVC fences are also hurricane resistant and chemically protected against sun radiation factors, making them ideal for the changing weather conditions in Southwest Florida. Furthermore, a vinyl fence can be easily customized, allowing you to choose from many privacy, semi-privacy, picket and ranch rail styles, pick your favorite color and match your property's aesthetics.  
Vinyl fencing is not only cheap to buy, it is also inexpensive to install. Given how simple vinyl fencing is to set up, many homeowners elect to do it themselves. The posts need to be fastened into the ground, and the majority of the parts simply slide and lock into place. If you choose to have a professional install your fence, you'll be glad to know that the labor costs are far lower than they would be if you had opted for wrought iron or another heavy, difficult-to-work-with fencing material. Vinyl fence is definitely one of the cheapest fence to install in Southwest Florida.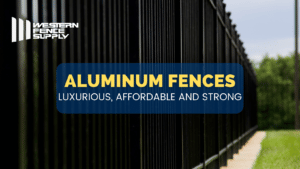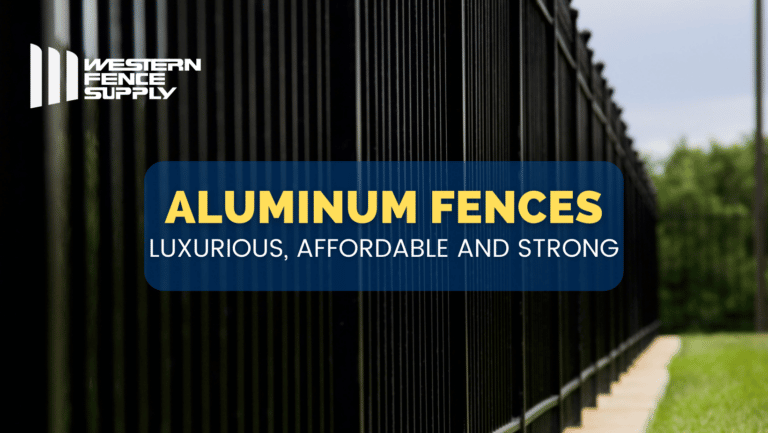 One of the most durable options for fencing, aluminum is also one of the most aesthetically pleasing. Because of the strength and durability of materials used, an aluminum fence is definitely a wise investment, and its price is significantly lower than that of wrought iron. Furthermore, it will endure as long as, if not longer than, while requiring far less upkeep.
Having a fence regularly inspected, repaired, and painted sounds ideal, but most homeowners just don't have the time to do so. Aluminum fencing's appeal also lies in its comparatively low maintenance requirements as compared to other fencing materials. 
Aluminum is immune to the oxidation and rusting that plagues other metals and that can destroy fence types like wood. Since aluminum is non-ferrous (contains no iron), it won't rust or corrode even if left outside in the rain, so your fence won't end up looking ugly by the time the season changes. 
The material lasts a long time and can be used in a variety of settings. Aside from the occasional wipedown to remove dust and debris, aluminum fencing requires very little maintenance. Remember: An attractive fence manufactured with premium materials requires minimal upkeep to keep its good looks.
Aluminum fence's picket gaps are not ideal for everyone, but this alternative is low-maintenance and inexpensive. Powder coating is used to apply color to aluminum fencing parts, making them unaffected by fading or chipping. There are 6′ wide and 2′ to 8′ high sections available. Depending on your particular needs, at Western Fence Supply you have the ability to alter the picket spacing's width or narrowness.
Save money overtime by acquiring an aluminum fence that will increase your property's resale value. Aluminum is definitely one 
You can always contact a local fence company like Western Fence Supply if you still have doubts on which fence type is the best option for you. Our team of experts will guide you in narrowing down the options for the best fence design and materials used in your Southwest Florida property. Our personalized assistance will ensure you buy the cheapest, most durable fence materials. Call us at (239) 689-5496, send us an email to westernfencesupply@gmail.com or get a FREE QUOTE ONLINE now! You deserve only the best.
Buy premium and low-cost at Western Fence Supply, the best place to buy fences in Southwest Florida.
#1 Southwest FloridaFence Supply Company
Western Fence Supply is Southwest Florida's best source for high-quality vinyl fence, aluminum fence, and chain-link fence materials. We sell to fence companies and homeowners in Lee County, Collier County, Charlotte County, and Hendry County.
Our goal is to sell superior quality fence products at wholesale prices and to deliver our fencing products to you with the highest attention to detail and with the best customer service in our industry. Take a tour of our shop by viewing this video, or click below to read our reviews. Then contact us to get started on your dream fence project today.
Start Your Fence Project