South & Central Florida Hurricane Fence Recovery Guide
echo get_avatar(get_the_author_meta('email')); ?>
by Brae Morales
October 20, 2022
Hurricane Ian had destructive effects on thousands of Florida homes. There was a wide range of damage to properties, and fences weren't immune. Count on Western Fence Supply for all the help you need. We have your back! So take a look at the hurricane fence recovery guide we have made for you:
How To Get Your Hurricane Fence Permit
All residential fence permits must be approved by the county's Zoning Division. All requests for residential fence permits are checked for conformity to the County's zoning and building codes. Permits for fencing are checked for conformity with rules on placement, height, and other parameters.
Process
Florida state law mandates that you obtain a permit for the majority of projects, no matter how little.  This is a summary of the stages and procedures needed to obtain a permit for the majority of projects. Additional procedures could be required, depending on your project and the type of permission you want.
Plan Your Project: Even if a fence construction permit is not needed, it must nonetheless comply with City Code. Infractions of the fencing codes may result in fines for homeowners.
Determine if you need a permit: You may need to obtain a permit if your fence will be any of the following:- On a commercial property, or residential property with three or more housing units.
-One which is over six feet in height.
-Any reinforcement (concrete/rebar) that is not stone, wood, or metal, such as posts.
-Barriers for swimming pools and spas.
-On or near any public easement as shown on a property survey.
-Gates that are powered by electricity or other sources (solar, wind, etc.) are included.
-Consequences of obtaining a demolition permit for the property or the actual demolition of a building there.
-Florida Building Code, Chapter 33, Safety Precautions During Construction.
-When situated on a floodplain or in a floodway (Check if your property is located in one of these areas.)
3. Google your city name in Florida along with the keywords "fence permit" to access the official website and get more specific steps for your zone, submit documents, schedule an inspection and check your permit status.
Permit applications for residential fences are mostly submitted digitally. The fence permit can be provided to the homeowner or builder. The time limit for a residential fence permit is 180 days from the day it was issued. To have the Division of Building Safety look at your structural walls or concrete columns, fill out an Application for Building/ Land Use Permit.
Fees usually need to be paid. Please note that if the fence permit is the result of a code enforcement violation, there could be an additional fee.
Google your city in Florida along with the keywords "fence permit" for more precise details.
Get The Necessary Permits
Although some homeowners choose to forego a permit, you shouldn't—against it's the law, and although you might get away with it for now, there's always a possibility you'll be caught in the long run. In the event that you are discovered to have erected your vinyl fence materials in defiance of local construction requirements or outside of your property line, you may be required to take them down and re-install them in accordance with the rules.
You may end up spending more money on supplies, forking over more cash in penalties, having to wait around for a long time before you can re-install, and still needing a permit. It's better to do the right thing from the start, even if it takes more time and money to get the necessary permits.
Don't know about fence regulations? Here's an example of a fence permit from the building department of North Miami: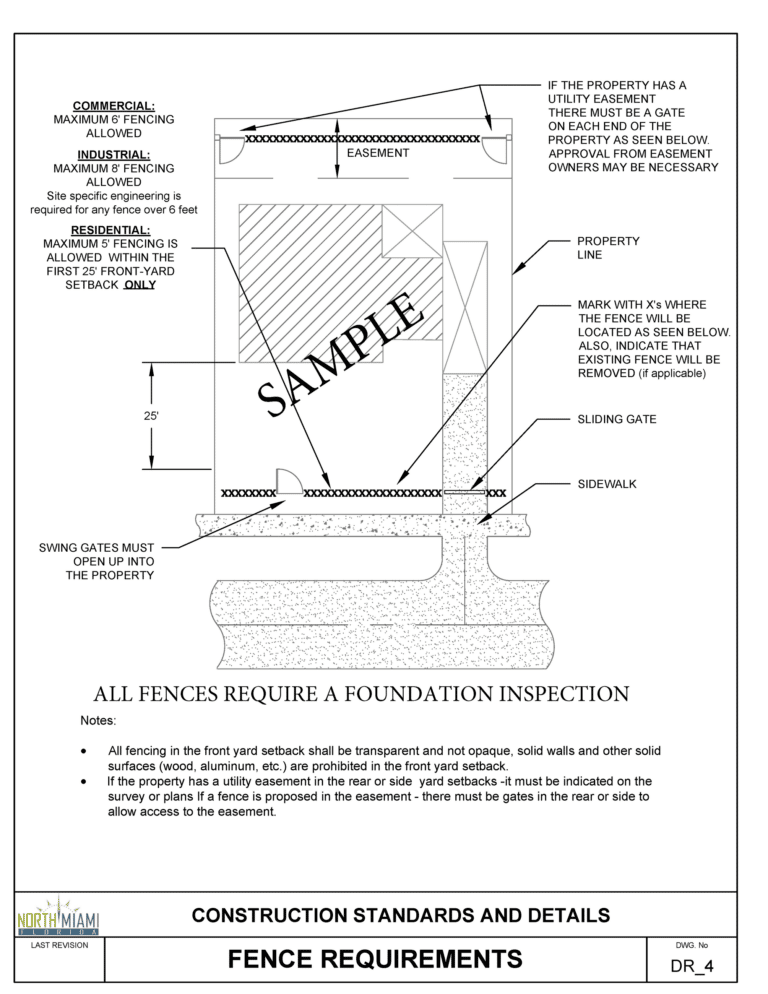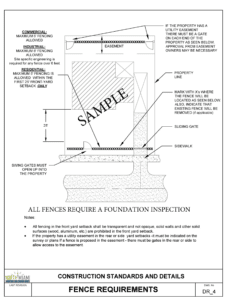 When can you expect to hear back about your request for a permit to put up a vinyl fence?
This procedure can indeed be time-consuming, often taking two or three months. If the building and zoning authorities are busy when you apply for a permit, expect a longer processing period. Some localities will let you submit and track your permit application online (although not all), and some cities are far more rapid in approving applications than others.
The answer to this question is very context-dependent, as every municipality contracts with a unique management firm to oversee this process.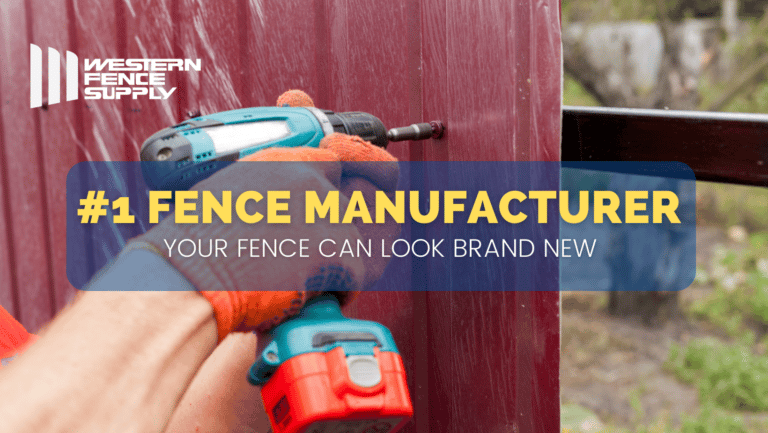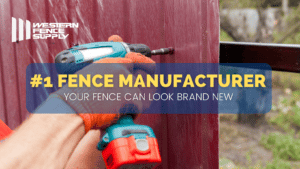 Hurricane Fence Repair
Western Fence Supply specializes in manufacturing and distributing the most durable fence materials in the country. Florida's premier supplier of high-quality vinyl fence, aluminum fence, and chain-link fence components is now dedicated to repairing fences that were damaged by Hurricane Ian's devastating gusts. In Lee County, Collier County, Charlotte County, and Hendry County, we market to fence businesses and homeowners. Areas like Fort Myers and Cape Coral, two of the main zones affected by the natural disaster, can benefit from our company's special discounts.
Hurricane Ian could have damaged your fence pickets, posts, rails, hardware, and more. We fabricate all the necessary components for your needs. Make sure to obtain your fence permit and rest assured that we will take care of the whole reparation process.
We can make the parts your fence needs to look as strong as it did when it was first put up.
Get a FREE Estimate on Fence Repair Materials in Central and Southwest Florida.
Western Fence Supply is your #1 ally against Hurricane Ian's devastating effects. We are here to help you regain confidence in the safety of your home and loved ones. If you have any questions or need clarification, please get in touch with us.
When you're ready to have your vinyl, chain link, metal or aluminum fence repaired, give us a call at (239) 689-5496, send an email to westernfencesupply@gmail.com, or click here for a free online quotation.
Western Fence Supply has your back. Contact us now!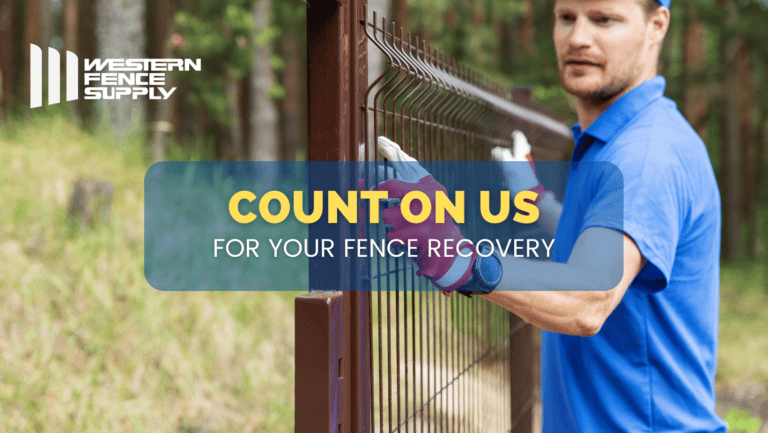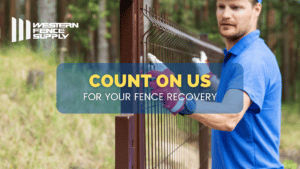 #1 Southwest FloridaFence Supply Company
Western Fence Supply is Southwest Florida's best source for high-quality vinyl fence, aluminum fence, and chain-link fence materials. We sell to fence companies and homeowners in Lee County, Collier County, Charlotte County, and Hendry County.
Our goal is to sell superior quality fence products at wholesale prices and to deliver our fencing products to you with the highest attention to detail and with the best customer service in our industry. Take a tour of our shop by viewing this video, or click below to read our reviews. Then contact us to get started on your dream fence project today.
Start Your Fence Project