Was Your Fence Destroyed By Hurricane Ian?
echo get_avatar(get_the_author_meta('email')); ?>
by Brae Morales
October 11, 2022
After Hurricane Ian hit the state of Florida, plenty of families and properties have suffered serious consequences. According to a study by Core Logic published on Monday, Hurricane Ian may cause substantial damage to around 1 million houses along the west coast of Florida, with replacement costs exceeding $258 billion. Overall, Florida has a major effect on the American economy. The Sunshine State's nominal GDP is higher than all but 15 states, placing it below Mexico and ahead of Indonesia if it were a sovereign entity.
Properties were affected in all kinds of ways, and their fences were no exception.
Was your fence destroyed by Hurricane Ian?
Did Hurricane Ian knock your fence down? 
For anyone in need who lives in Southwest Florida and whose fences have been damaged, Western Fence Supply is offering FREE fence materials that meet the following requirements: 
people in need who have young children or pets and live in unsafe conditions.
Military Veterans.
Vulnerable Families.
Elderly Residents.
Disabled Residents.
A hurricane can do a lot of damage to a property and its fence, but not all fence materials are the same when it comes to how well they hold up in bad weather.
What Characteristics Make a Fence Hurricane-Resistant?
Sturdy, reinforced posts.
Strong, high quality materials manufactured with advanced technology.
Smart Designs with aerodynamic structures.
High resistance to humidity and salt water (protective coat layers).
The Best Fence Materials Against Hurricanes
Chain Link Fences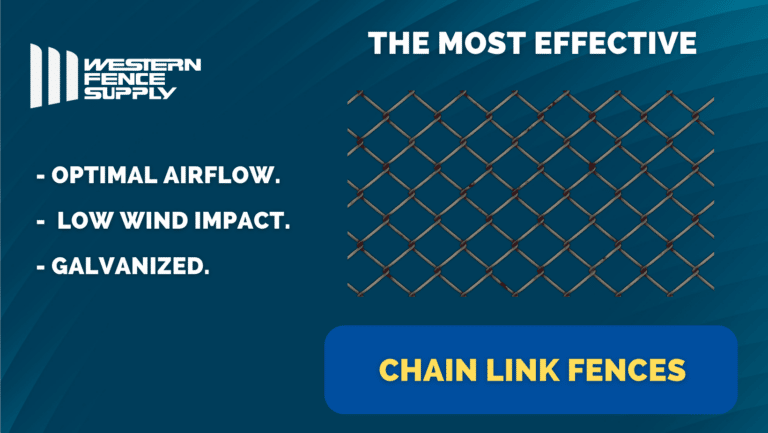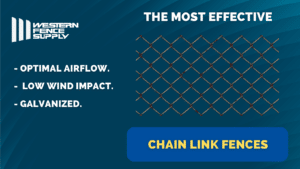 chain link fences are the most effective against wind. The wire mesh is permeable to airflow but strong enough to act as a fence, thanks to its many small apertures. These types of fences are available in a wide variety of designs to meet your specific aesthetic requirements. If this fence suits your preferences, it's your best bet for regions where the wind blows constantly. Remember, a chain link fence is the strongest type of fence during a hurricane because the wind can effortlessly pass through it.
Fun fact: Since the wire mesh and other metal components of a chain link fence are galvanized, they rarely need repairs or upkeep. Galvanized metal is more durable and resistant to rust and warping because it has been treated with a particular technique.
Vinyl Fences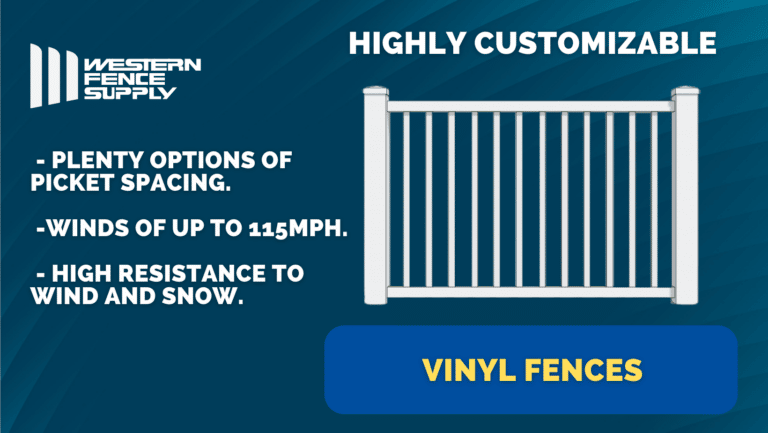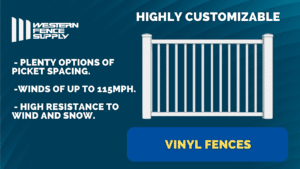 Vinyl fences are an affordable and long-lasting option in Florida. Available in a variety of designs and styles, some with wide picket spacing to allow for airflow in between.In addition to withstanding high-speed winds, this material also shows resistance to rain and snow. This fence will not corrode or bend, regardless of how much water is thrown at it.
Aluminum Fences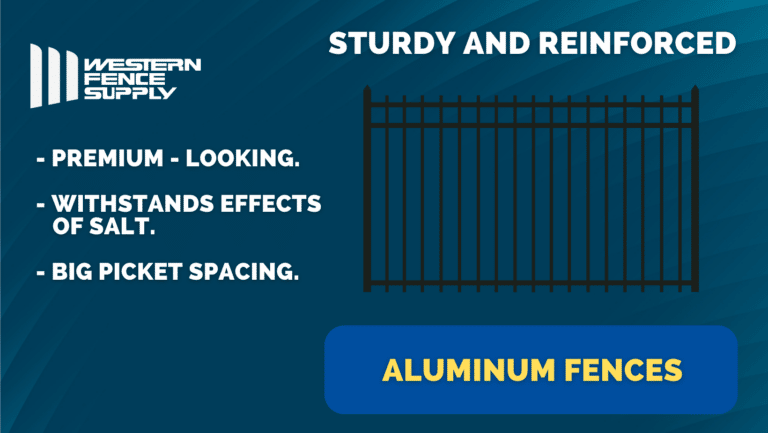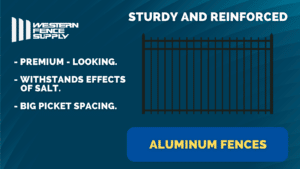 Aluminum fencing, like our vinyl fencing, is made specifically for Florida's extreme weather. Intense testing in a salt environment has shown that our aluminum fences can withstand the effects of salt for more than three thousand hours. Aluminum fences are one of our most premium-looking fence options, and they are a great alternative for windy areas too.
The Fence Styles Western Fence Supply Recommendations For Windy Areas

Shadowbox fences, also known as board-on-board fencing, are built by attaching staggered pickets on either side of the fence rails. This provides seclusion, yet the open spaces between the pickets allow air to flow freely. More wind resistance is provided than on regular privacy fences.

The popularity of this fence style is largely attributable to its suitability for settings where privacy is secondary. The spaces between the pickets are usually the same width, so a lot of wind may still blow through. Traditional homes with picket fences have a timeless appeal and are always a pleasure to see. 

Horizontal rather than vertical, louvered vinyl fence panels are mounted on rails, with each picket rotating between the front and back sides. This fence style allows airflow while still providing privacy for the property.
Any fence style with spacing between pickets allows more airflow and has less wind impact, consequently being more stable during strong wind seasons. Western Fence Supply manufactures and distributes the most durable fences in the market for homeowners, builders, fence contractors, general contractors and the general public in all Florida. Our company wants you and your loved ones to be as safe as possible during hard times, and because of that, we manufacture only the highest quality raw materials by employing ultra-advanced technology. Count on us to repair the damage caused by Hurricane Ian to your fence or to install a brand new vinyl, metal, aluminum, or chain link fence.
Remember, Western Fence Supply is offering big discounts for homeowners affected by Hurricane Ian, take advantage of them now!
Call us now at (239) 689-5496, send us an email at westernfencesupply@gmail.com or click here to get a FREE ONLINE QUOTE! You deserve the best. Save money and time with WESTERN FENCE SUPPLY.
#1 Southwest FloridaFence Supply Company
Western Fence Supply is Southwest Florida's best source for high-quality vinyl fence, aluminum fence, and chain-link fence materials. We sell to fence companies and homeowners in Lee County, Collier County, Charlotte County, and Hendry County.
Our goal is to sell superior quality fence products at wholesale prices and to deliver our fencing products to you with the highest attention to detail and with the best customer service in our industry. Take a tour of our shop by viewing this video, or click below to read our reviews. Then contact us to get started on your dream fence project today.
Start Your Fence Project